The Lloydminster and District SPCA is on the receiving end of a donation they say will go a long way in preventing and treating dog illness in their shelter.
A local company called Ecoplast Solutions reached out to the SPCA because they wanted to help a local non-profit in the form of building a structure for them. That materialized this week in the form of an illness isolation centre.
SPCA Executive Director Danicka Bodnarchuk says oftentimes, they've had dogs come into the shelter either with or quickly developing symptoms of Parvovirus and Distemper, two very serious flu-like diseases which can spread quickly and be fatal. 
She explains that before, they tried to isolate the dogs best they can within the existing space, but all other shelter dogs were still at risk. Now, they have a place to monitor for symptoms on incoming and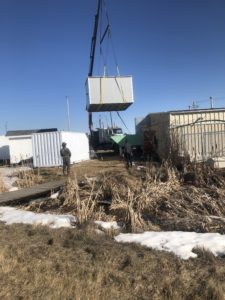 comfortably treat the dogs as they wait for vaccination to kick in.
"Unfortunately, not everyone vaccinates their dogs. So when we have any stray animals in our care, we obviously don't have any history as to whether or not they have been vaccinated. With our dogs, we vaccinate them on incoming, but it does take up to five days for the efficacy of the vaccine to provide the dog with preventative benefits."
The isolation structure will be outfitted with all the tools and equipment needed to properly take care of the dogs. In addition to that, the structure is fully made of 29,000 upcycled plastic bottles.
Bodnarchuk says they plan to have the isolation space up and running soon.
"We're hoping to be able to do it in the next two weeks. It actually does have an electrical output so we're able to cool in the summer and heat in the winter. So we just need to get a kennel situation set up in there, and then we already have shelves in there so we're not transferring equipment in between the shelter and the isolation structure.
In addition to being a vital tool for the SPCA, Bodnarchuk says at the end of the day, Ecoplast has given them a tool that will save lives now, and in the future.