Lloydminster residents will see more street sweepers on the road, moving into their neighbourhoods soon.
Sweeping is underway right now downtown and on main roads, with crews moving into residential areas on April 19th. The cleaning aims to minimize debris entering storm-water collection systems, reduce dust and provide clean roadways.
Street sweeping will follow the same map as curbside collection, and be completed one day after people's garbage is picked up. It will usually be done between 6 AM and 10 PM, Monday to Friday, before moving to other areas for the night.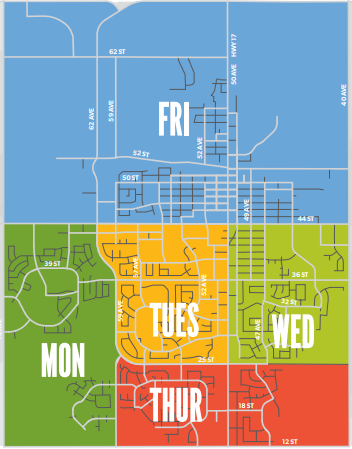 When street sweepers are headed through a neighbourhood, signs will be put up and residents should take their vehicles off the road. If signs are up over the weekend, people can park on the road again, but should have it removed by the Monday following.
To expedite sweeping operations, residents are asked to set out waste and organics carts after 7 PM the day before pick up and have them removed by 7 PM on pickup date.
Drivers should be cautious around street sweepers and stay eight feet away. Residents with questions about the street sweeping program can call 780-874-370 or visit the City's website.