The Eco 9 class at E.S Laird School was out at Jaycee Hill recently doing an activity called Orienteering.
The activity got about 10 kids outdoors working with a compass and getting their bearings in around the city of Lloydminster.
Grade 9 teacher Shaun Donald explains that with Covid restrictions, they have had to adapt their learning as they have to confine their activities to the school.
"This year we're not going to be able to go on camping trips. However, we are still going to be doing a lot of outdoor activities, coming to Jaycee Hill, going to Bud Miller [and] going canoeing. And looking at just how we as humans interact with our planet."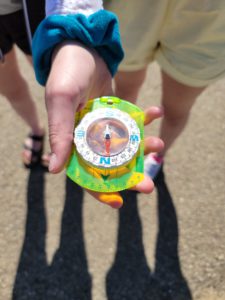 Donald says the students also manage four honey bee hives just east of Lloydminster. With the Covid changes, they have not been able to visit the hives. They have been able to get some of the honeycombs to do the extraction and then bottle and label the honey for sale as a class fundraiser.
Their teacher says the world of COVID has changed their learning immensely, requiring a lot of switches in programming to adapt.
"Typically we go off, we visit a cattle ranch and a grain farm, we do a whole bunch of activities around the city and then we go up to Cold Lake and visit the Air Base. So our projects are based off of those trips and without doing those trips we have had to re-design our program this year."
The students are also looking at sustainability projects like water filtration.