Lloydminster City Council is renewing their agreement with Lakeland College allowing full-time students to benefit from use of City recreation facilities.
The Facility Use Agreement affords  students access to the  Bioclean Aquatic and Servus Sports Centres for a fee and at the same time allowing Lakeland College not to have to duplicate these services.
Mayor Gerald Aalbers sees it as win-win situation for students at the College and the City.
"It covers off two terrific  facilities in our city, gives us a little extra revenue and it gives the  students a very reasonable access while they're working on a limited budget as a full time student."
The agreement was first struck in 2015 and it's renewal continues the reduced student rate for the betterment of the physical and mental well-being of students. The new agreement covers the period 2021 to 2024 with new rates applying: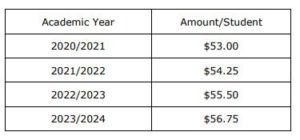 Mayor Aalbers says this deepens the synergies of the ongoing relationship with Lakeland College and the City.
"It just enhances the relationship that exists. We know that the Vic Juba Theatre which is a part of our culture and recreation portion is part of Lakeland College, but owned by the City, and [it's] a working relationship that dates back a long time and will continue to grow with the City and Lakeland College because they are mutually beneficial to each other."
Lloydminster Campus students also pay an additional five dollar fee at each facility to activate their memberships.