"I missed the food, I missed the staff. All the people I got to hang out with."
Donovan Souanky has been coming to the Lloydminster Community Youth Centre for about two years. The Holy Rosary High School student is there right after school and enjoys the environment.
"The staff are always nice. The gaming consoles are always fun to play on. The food here is amazing and every so often you get to go on trips and those are always fun."
The Centre caters to area high school kids. Staff have had to adapt their work to keep pace with COVID protocols.
To support their outreach programs, the Alberta government recently gave the Youth Centre a grant of $59,000.
The youth program is run by the Lloydminster Interval Home Society. Resource Development Manager, Leanne Wildeman says they have a wide variety of activities for the young people. She says it was a mental health initiative grant that came through and it fits well with their work.
"The work that is done here at the Centre is building resiliency in youth. It does help connect youth to resources if needed for mental health. Also just having this opportunity for youth to access a fun, inviting environment that they can feel welcomed and a part of."
Wildeman adds youth can engage with mentors through the Centre and this also supports their mental health.
The Centre was not open in the early months of the pandemic. Youth staff connected with the young people online. Wildeman indicated that the grant offers two-fold support to sustain both online programming and fill the needs of youth as they return to more in-person options.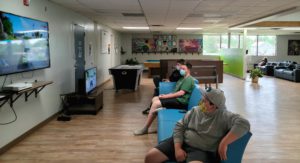 The Centre relies on grant dollars and fund-raising. Wildeman says without that income stream they would not be able to offer their services. They are thankful for the input from the Alberta government.
" A grant like this really offered a springboard at the beginning of our fiscal year, to just make sure that we are able to remain operational and stay open for these youth and offer them the critical resources that they need."
The Centre is open from Wednesdays to Saturdays from about 3-9 pm. Full information can be found on their social media pages and their website.