It's one collection or one section at a time as the Lloydminster Library is getting set for a big move across the City this Summer.
For anyone who has ever moved house, the packing and unpacking, given other commitments need to be carefully scripted. Interim Library Director Michele Duczek explains that moving a library has several technical pieces. This week, they are in Phase One as they get ready to move non-fiction and hardcover fiction.
"That shelving is being moved and re-installed in the new space next week. So we have to empty those shelves. What we are doing this week is emptying that collection onto carts for the shelves to move. Once the shelves are re-installed, the movers will come in and move all those carts into the new space and put the books back on the shelf."
The last day that the Library will be open to the public in the Atrium Building is June 30. If members still have books out, staff say to hold on to them. The books will not become due until the Library reopens at Lloyd Mall.
Duczek says Phase Two of the move will begin on July 5 when they move the internet and servers.
"July 5th we go dark for a while. We will have no website, no access to electronic resources, no internet and we are closed to the public as well. The following week we plan to actually install a new phone system. So we will still be dark because with no internet and no phones, we can't operate to the public."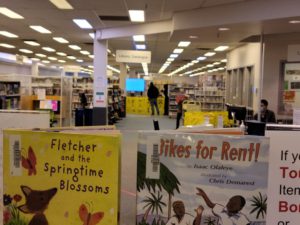 Once Phase Two is done they will resume online and phone support services. Then they will have to move the rest of the collection and get their administration set up again before they can reopen to the public.
With all the factors to consider in the move to the Lloyd Mall, Duczek admits a reopen date is a moving target. As the Library says goodbye to downtown, she says the new space at the Mall has some ready advantages.
"So there is the Mall parking. I think more people will be coming to the Mall and just include it in their stop. Go to Safeway and go to the Library. Get your eyes checked and go to the Library. Pick up a book at the Bookstore. Go to the Library to get the first few books in that series."
Duczek adds that libraries and bookstores work well together. They can drive customers to the store and the public may also get the newest book at the store, and then want to read the entire series at the library.
Staff will be posting updates on the Library's social media as the move progresses.