With the record-breaking temperatures being set in Western Canada, residents are turning to their air conditioners as they seek relief.
The Alberta Electric System Operator (AESO) says that on Monday energy usage spiked at 11,512 MW, beating the province's previous summer peak demand record of 11,169 MW. They are asking Albertans to play their part and conserve energy.
They say that energy usage peaks between 4:00 and 7:00 PM, with the weather compounding already higher demand.  On Tuesday temperatures were around 33C that felt like 36C during the peak time period.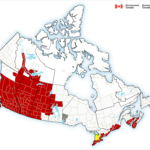 AESO says residents can conserve energy by closing window coverings, lowering thermostats to pre-cool homes and avoiding using major appliances and charging electric devices, including electric vehicles, during the period of peak demand.
Environment Canada has heat warnings from B.C. across the Prairies to Western Manitoba, which will continue to last all week.