Ken Rutherford is putting his name in to represent the Battlefords-Lloydminster riding.
The local business owner, college instructor and volunteer has announced he will be seeking election under the banner of the Maverick Party, which formed this year. The goal of the party, according to their information, is to represent the interests of Western Canada. As such, the Maverick Party will only be running candidates in ridings Manitoba and west.
Rutherford says he is new to the political sphere but chose to run so that he could be part of positive solutions for the community and the west.
"I thought if I just sit in my basement and complain, I'm not being part of the solution. I didn't see anyone else standing up, so I thought, if no one else is going to somebody has to, and here I am. Why? My primary reason? I think it's very important to move in a direction that protects and sets up our future generation for the best life possible for them."
The Maverick Party did form out of what used to be the Wexit Party, however, they're not a separatist organization, according to their literature. Instead, the Maverick Party has what they call the "Twin Track" approach.
The first track of this, the one Rutherford says they will be striving to use, seeks to balance the power dynamic between east and west Canada.
"I don't want to leave Canada. I would like to see us with a new agreement, a new arrangement within Canada, that allows us all to be treated equally, and with respect, and to be included as equal provinces, as equal areas."
The second track, separation from Canada, could be years, if not longer, away and only a resort if equity isn't found, Rutherford believes.
While the Maverick Party says their main focus is the interests of Western Canada, candidates have the ability to vote as they feel on issues. Rutherford says he's looking to build the community up, create a west that's inclusive of all races, sexual orientations and gender identities and work on a future that is good for young people to inherit.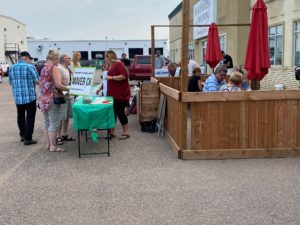 "I like that being a grassroots party, we're encouraged to share our opinions, and if there's policy that we're read, if, say, you find something you don't like, tell me about it. Let's go for a coffee, circle it out, tell me why, I'll talk to them, and if they say ' you know what, we haven't thought about that before, we're willing to change that,' because it's grassroots, it's got this, everyone is welcome, everyone can add their opinion to it."
The next federal election has not been called yet, but in the meantime, Rutherford says he'll be continuing to meet with the public to get the word out about his candidacy and get their perspective of what they want out of their representative in Ottawa.