The Saskatchewan Government opened the mobile COVID-19 vaccination record program Monday, which includes QR code access.
Now, residents with a Saskatchewan MyHealthRecord account can access their vaccination record on any mobile device, including a scannable QR code that people can use to enter establishments that require it. When someone scans a visitor's QR code, it will provide the scanner with the person's name, what brands of COVID-19 vaccine they've been given, when and in what country it was administered, along with the vaccine lot number as well.
When the code is scanned with the SK Vax Verifier App, which businesses in the province will use for this purpose, the app will light up green to verify the person is fully vaccinated or a red indicator to show they are not.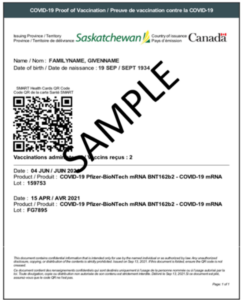 This is the next step from the paper vaccine record, which was unveiled in August, the province says, and the QR code can be viewed, downloaded and saved on any mobile device. This QR Code will also be useable for international travel, and is working in step with the Federal Government so that a national program can be launched too.  No information is saved or retained in the scanning process, and the province says a person's details are secure during the whole process.
Health Minister Paul Merriman calls this the next improved vaccine record, and is something travelers, businesses and organizations have been calling for. He also noted that people should continue to get vaccinated  and use this record when it's available to them.
The app is being unveiled now to get residents up to speed on downloading and using it, the province notes. By the end of this month, The Saskatchewan Vaccine Verifier app will be free and open to all businesses, available from the Google Play or Apple App stores. Also by that time, any citizen will be able to get the Saskatchewan Vaccine Wallet app, called SK Vax Wallet, from Google Play or Apple App stores to download their vaccine record and have it easily accessible in the SK Vax Wallet app on their phone. 
If someone wants a hard copy of their vaccine card to use, they can keep the card they get when they get vaccinated and us it as proof instead. People still needing access to their records can make and account on the Saskatchewan eHealth website.