"It's a great looking clinic. Very modern. New. And of course anytime we welcome new businesses to the community it's a terrific thing."
Mayor Gerald Aalbers for the third time in as many days is on hand for a ribbon-cutting in Lloydminster. This time Lloydminster native Dr. Fraser Young is back in the city with his family to set up a new orthodontics clinic.
Aalbers recognized the value in having someone who had their formative education in Lloydminster being able to return home and set up a new business.
"I think that it's so important that there is opportunity in our community for young people. They often go off to go to school and say, 'Hmmm it's better in the city. It's better in this City.' I think they are realising that coming back, you are going to find reasonable rent, you're going to find a great city and people that are welcoming and have their arms open to have new businesses join them."
Young is a Lloydminster Comprehensive High School graduate. He studied dentistry at the University of Saskatchewan. He returned to Lloydminster and worked at Westlake Dental for about 18 months before heading to Ontario with his family to study orthodontics at Western University.
He shares that his passion to specialize in orthodontics was home grown.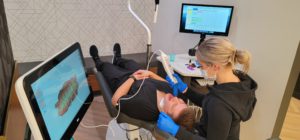 "I always like the whole aspect of it and I knew that somewhere like Lloydminster would certainly benefit from not having to go to the city for those sorts of things, like I did growing up. So it was nice to be able to come back here at the end too. So we kind of always planned right from the get go that, hopefully I would end up back here and be able to settle down back at home."
Edge Orthodontics has seven client stations and uses Intraoral Scanners by iTero to produce a 3D virtual image of the patient's teeth which the dentist can manipulate to contour the appropriate treatment plan.
Young shares how the new technology has simplified the modern orthodontic practise.
"We just have cameras that take lots of pictures of your teeth and then it actually turns it into a 3D model that you can use to either print off or make a retainer on. You can look at it virtually, so you don't have to have the models in your hand to see how the bite fits together. You can just look on the computer and see exactly how things are coming together."
Young says the scan can take anywhere from five to ten minutes to complete and then it can take a few days to send the file out to the manufacturer to make a retainer. He says the next step would be to get a 3D printer in house.
Edge Orthodontics, located at 2909 – 50 Avenue is already accepting clients as the six-member team gets to work in the cutting edge space.