"It will be great for students to get the new technology and be able to learn how to use those tools properly. And when they get out of school it will be a big advantage to them."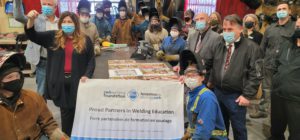 The CWB Welding Foundation is tacking on $50,000 to the Holy Rosary High School expansion which will see the school getting an industry level workshop for its welding students.
School officials along with CWB representative Alan Gallant were on hand for Thursday's announcement.
Gallant deals with 2500 clients across western Canada, and he says they have identified a common concern.
"The biggest challenge is getting young students, young people out of school that know how to adjust the machine. That know what they are talking about to make corrections, depending on the situation they are in. It's really awesome that these guys are able to get the newest stuff and learn from the ground up."
He stressed that high schools are the perfect place to learn these basics in welding as there's an industry projection that by 2028, there will be about 700,000 welders in the country retiring or changing careers. He says they are already seeing signs of this shortfall and the CWB is actively investing in the future.
Gallant said that CWB with industry partners have invested over nine million dollars this year across Canada, as they target the schools in each community that are actively invested in welding.
In the industry, Shielded Metal Arc Welding (Stick), Gas Metal Arc Welding (MIG) and Gas Tungsten Arc Welding (TIG) are the main skills that students need to learn. Gallant noted that not all schools have that capability, which is something that the new lab and by extension this community will benefit from.
Councillor Lorelee Marin speaking on behalf of the City welcomed the CWB investment, noting that Lloydminster is built on the trades, and as well there is a growing involvement of women in industry.
Grade 10 student Marleigh Mann will be one those to benefit when the new welding workshop comes online.
"I'm really excited to see all the new technology they will have in there. I can't wait to try it out. They have already brought some new welders in to test out and it's been really fun testing those out and I can't wait to see all the new technology that will be in the whole station."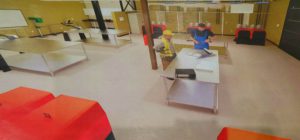 Class teacher Kevin Bender who came on board in 2008 says it has been all student-driven. He reflected that they started with four stick welders and he had to brush up on his welding skills. He shared on how important TIG welding is to the industry, as the school will have that capability.
"Everything from aircraft maintenance to automotive technology. It's a really fine, detailed welding. You can weld a lot of different types of metals with it, so you're not limited to simply mild steel. You can weld aluminium and all kinds of different alloys with it. It's very, very precise and meticulous welding. Anything that you have to be precise on. That's the type of welding you would choose."
For this school year, they have nearly 100 students in welding. The new facility is due by late 2022.