Students at Rendell Park Elementary School got into the Rogers Hometown Hockey vibe in a big way for the local food bank. The school collected almost 3000 items of food and in the process scored a visit from Paz the entertainer and the Rogers Hometown Hockey Circus Show.
The school community had to Fill the Net with food items from March 7-16th to win the top spot.
Friday afternoon, students and staff put on their favourite hockey team shirts and packed the gym for a fun motivational session.
Grade six student Josh Frazer says the school enjoyed the challenge.
"I think it was a fun experience for everybody to get this challenge throughout the classes. We got 2,892 items of food."
Josh adds his favourite hockey team is the Edmonton Oilers who play the New Jersey Devils on Saturday evening with a former Rendell Park student in the lineup.
New Jersey Devils' defenceman Ty Smith, who went to Rendell Park and is a Lloydminster hockey product sent a video greeting to the school says Vice Principal Amy Skinner.
"Just great job collecting for the food bank and how he had gone to school at Rendell Park and played his minor hockey with the Blazers and he urged the students to work hard. It was great to hear from him."
Both the Salvation Army and the Olive Tree food banks will benefit from the generosity of the school community.
Skinner shares that school spirit has been bolstered by the food drive activities.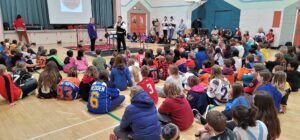 "We painted the classroom red, where the kids dressed in red. There were desks covered in red. Kids played 'Oh Canada' on recorders. It was lots of fun. And then we had a colouring contest. It was a great way to bring us out of the COVID and back to what we love doing at schools and that's having fun with kids."
Also present at the school assembly were a couple players from the Lloydminster Bobcats, runner Mikey Dubz and head of the Lloydminster RCMP Inspector Lee Brachmann who all shared from their life experiences and took questions from the kids.