"As a team we fell just a little bit short. Only seven or five goals. The community was able to come around and Boundary Ford and Carly [Pollard] made a video for us that really inspired us going into the playoffs and it really showed that the community was behind us."
Forward Jayven Leslie with the Lloydminster Bobcats was on hand along with Carly Pollard, Marketing Manager for Boundary Ford to hand this year's Give N Goals cheque for $10,000 to Angela Rooks-Trotzuk, Executive Director for the Lloydminster Interval Home Society.
The fund is the legacy of the late Bob Troup with Boundary Ford rallying the community to score the win for this year's recipient, the Lloydminster Youth Centre. Pollard explains the idea came about to ensure the maximum amount would go to the youth centre.
"If they didn't reach the goal, we knew that the youth centre would not get that cheque for $10,000. So we talked to a bunch of community members and they were onboard to help these boys reach that goal. We know that the Bobcats organization has the whole community behind them all of the time. So why not bring them in to help complete a challenge that was given to them."
Pollard says it was a welcomed surprise to the team as they did not know the community support was forthcoming.
Angela Rooks-Trotzuk says they are quite excited for the generosity of the Bobcats organization. With more kids returning to the Lloydminster Youth Centre as COVID restrictions are being eased, Trotzuk welcomes the funds which will assist with expanding their programs.
"We do gym nights. We do crafts. We do talking circles. We have hoop dancers in. So lots of different recreational, cultural and social connecting, and educational based programs as well."
Nigel Dube Head coach and GM salutes Bob Troup who led the effort to give back to a local charity every year.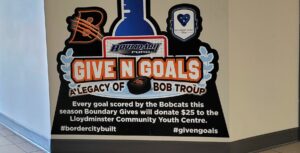 "When Bob passed away, it [Give N Goals] was a big part of the community and it was able to continue and be a legacy of Bob Troup and hence the importance. Carly has done a great job with Boundary Gives to take that over and continue it on from Bob."
For every goal scored by the Bobcats, Boundary Ford Gives donated $25 to the Lloydminster Youth Centre.