ATCO is bringing Advanced Metering Infrastructure (AMI) to Lloydminster commencing this year with installation continuing over the next three years.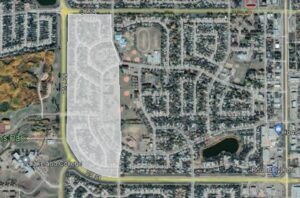 Officials say they will begin installing the new meters from May 2nd for homes east of 59th Avenue bounded by 36 Street to the north and 25 Street to the south, as shown by the white area on this map.
ATCO says AMI is the latest in metering technology, using meters to track consumption and power quality in real time. The installation of AMI technology in Alberta allows faster detection of outages and enables customers to be better informed of electricity usage patterns.
Officials say ATCO crews will present themselves before any work is started. The meter exchange process takes about fifteen minutes and there will be a brief power disruption for about five minutes,  as the meter exchange takes place. ATCO crews do not require access inside your home. Once your power is safely re-established, the ATCO field representative will remove all equipment and materials, including the old meter.
ATCO staff will wear appropriate safety and personal protective equipment along with ATCO clothing and identification, say officials.
The electricity meter upgrade will not affect customer billing or electricity service to homes. More information can be found on the ATCO website.