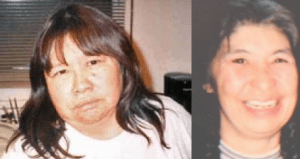 Pictured: left–Jeannette Chief; right–Violet Heathen
RCMP have arrested a man in relation to the murder of two Lloydminster women.
RCMP Investigators from Alberta ("K" Division) and Saskatchewan ("F" Division) have arrested a 59-year-old Alberta man for the murder of two women in Lloydminster, Alberta which occurred in June of 2007 and May of 2009.
Jeannette Chief was last seen in Lloydminster at around midnight on Saturday, June 2, 2007 after having left the Onion Lake Cree Nation the day before.  The body of the 48-year-old woman was found by police on Wednesday, June 6, 2007 in a rural area outside of Lloydminster, SK.  Her death was determined to be a homicide.
49-year-old, Violet Heathen was last seen, on Friday, May 15, 2009, also in Lloydminster. Her remains were found near Kitscoty, AB on Saturday, November 7, 2009.  The resulting homicide investigation lasted more than six years.
The RCMP utilized members from several specialized units in both provinces during the course of the two murder investigations.  Members of the RCMP Historical Homicide Unit (HHU) of Edmonton, together with their Historical Case Unit (HCU) counterparts from "F" Division, confirm that the 59-year-old man was arrested yesterday evening for two counts of first degree murder in the deaths of Violet Heathen and Jeannette Chief.
The investigation into these murders is continuing and additional details will follow a press conference Thursday, March 24.