A display of cultural heritage in song, dance and drumming accompanied the historic flag raising of both Métis and First Nations banners to accompany the Maple Leaf as well as Alberta and Saskatchewan provincial colours.
Lt. Governor of Saskatchewan Russell Mirasty and Mrs. Mirasty were present for the occasion along with Minister Bill Kennedy from the Métis Nation of Saskatchewan, Councillor Leon Whitstone from Onion Lake Cree Nation, MLA's Colleen Young and Garth Rowswell, Deputy Mayor Glen Fagnan and Lloydminster Public School Division representatives.
Mirasty who was born and raised in La Ronge and is a member of the Lac La Ronge Indian Band spent 36 years across seven provinces in the RCMP. He reflected on the image of seeing all the flags flying at the Lloydminster Comprehensive High School.
"We have five flags here representing five nations in a way, but I don't know if I ever envisioned a day when I would see the five flags flying in unison and that's really very symbolic."
Mirasty assessed the state of Indigenous relations in the country saying that there are still challenges and signalled the importance of the work of Truth and Reconciliation and the Calls to Action.
The flag raising comes at a time when the future King of England is visiting Canada and with the country being part of the Commonwealth, Mirasty sees the importance of Prince Charles's comments regarding facing the darker aspects of the past.
"That relationship with the Crown as represented by the Queen today is absolutely critical. And so anything that she says in terms of reconciliation, in terms of recognizing the place of Indigenous people in this world and then followed up by what the Prince said in Newfoundland yesterday (Tuesday), it's absolutely important to still have that connection with the Crown."
Mirasty added it was Queen Victoria who signed the treaties with First Nations peoples.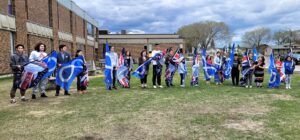 Students from all the schools in the LPSD will be taking both the Métis and First Nations flags back to their respective schools for similar flag raising exercises at a later date.