Top prize winners are Lloydminster Comprehensive High School and College Park Elementary in their respective categories as Public Schools of Saskatchewan rolled out their Student Citizenship Awards in Saskatoon on Friday.
Both schools produced video submissions in the high school and elementary school categories to each snag a $1000 prize.
College Park teacher Derek Armstrong says they had a nine-minute video which was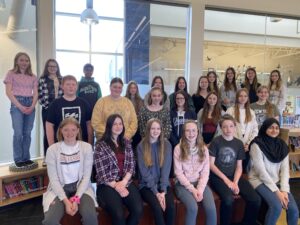 produced by about 25 students from grades 7-9 showcasing school life.
"We felt that there was just so much we wanted to highlight and share with the folks at the Public Schools of Saskatchewan. And we really wanted the project to be directed and completed by our students."
Armstrong says the intent of the prize is for future initiatives. He adds Public Schools of Saskatchewan was happy with their level of school involvement
"The folks at the event were really happy to see we do a wide variety of things in our building and they are also really happy to see that we involve all of the students in our building in our activities from Kindergarten right through to grade nine."
Armstrong says a big part of their school culture at College Park involves all their students as opposed to a separate elementary and middle school.
The Lloydminster Comprehensive entry is just over three minutes and documents the LPSD Small Fires Mentorship program.
Coordinated by Denae Bruce, the initial goal of the program was to put emphasis on reconnecting youth to their traditional Indigenous cultural identities, create support networks and foster positive relationships.
As students develop their strengths and understandings of their culture in the mentorship process, they in turn grow stronger and begin to empower and inspire others to make this world a better place, say LPSD officials.
Bruce says they plan to use the funding to continue their mentorship, teaching and to access more cultural resources.
The award presentation ceremony included remarks by the Honourable Dustin Duncan,
Minister of Education, and Senator David Arnot, who serves on the Concentus Citizenship Foundation board.