It's literally ice cream for literacy as The Scoop is encouraging cool cream aficionados to buy the feature flavour and read the book while visiting Kin-Kinette Park at the Outdoor Pool.
The StoryWalk at Kin-Kinette Park will consist of reading the book "Don't Push the Button," and families can follow the adventures of Larry while they make their own adventures eating ice cream and following the park trails.
Maria Sarcauga-Gantefoer with The Scoop says every year they choose a non-profit to support and this year the pitch is for literacy with the Lloydminster Learning Council Association.
"The StoryWalk program is basically this program that they do where they choose a book for the year and they have it printed on big signs. They have the signs set up in parks. That way families can read a book and enjoy nature."
The event runs from Thursday June 23rd to Thursday June 30th. After following the path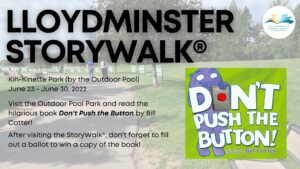 and doing the StoryWalk families can fill out a ballot to be entered to win a copy of the book.
The Scoop is already dishing out a featured flavour.
"For about three or four weeks now we have been doing a feature flavour and every feature flavour, basically proceeds from that go towards the Lloydminster Learning Council Association. And then we also have a little donation, so if you don't want to purchase the feature flavour, you can donate directly to the StoryWalk program."
The next feature flavour will be Watermelon Sherbet. The story board signs with the book will be up in time for Thursday at the Kin-Kinette Park which houses The Scoop Lloydminster.