For a fourth time there has been an incident involving fencing staples at the Servus Sports Centre parking lot, according to the city.
Staff say the most recent episode happened on Monday July 25th. Maintenance crews have since removed the debris from the parking lot.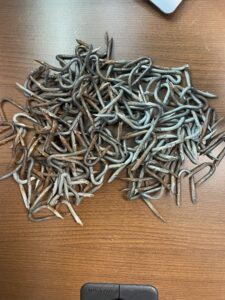 Mayor Gerald Aalbers says while accidents can happen he believes this was intentional.
"An intention to cause damage is never good. The staples would cause issues to tires, so people driving down the road and not realizing, it can lead to more damage or an accident and even worse."
City-owned vehicles have been damaged by the intentional placement of the bent fencing staples, according to city officials.
"We believe someone is determined to wilfully damage property and assets resulting in significant cost and added expense to ratepayers and private property owners," says Glenn Alford, senior manager of public safety.
Aalbers in expressing his safety concerns added for people to be on the lookout.
"So we really encourage people to be vigilant and if you notice something that doesn't seem right, please reachout to Crimestoppers or the RCMP directly."
Anyone who has information related to this matter or may have been a victim and has not yet reported it is asked to contact the Lloydminster RCMP Detachment at 780-808-8400 or Public Safety at 780-874-3710.
Motorists are reminded that the parking lot is closed from 12:30-5:30 a.m. daily.