Circle your calendar for some summer fun as city planners are inviting you to recreate at a new park space.
The opening of the Parkview playground is slated for Wednesday August 10th from 11:45 a.m. at 6921 35th Street.
Recreation staff are dishing on the park's features including:
Smart Play loft for toddlers and pre-schoolers
The WhooshWinder slide for older kids with its tall six-foot deck
the Boogie Board that's suitable for all ages, where children may play alone, or many kids may play together on the flexible rubber belting.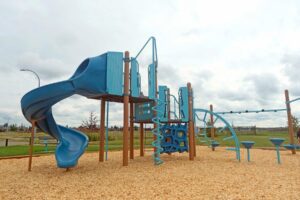 Parkview Playground has inclusive and accessible design features and demonstrates the city's commitment to a sustainable future for everyone adds recreation planners.
Residents are invited to pack a picnic lunch, visit the park and enjoy the summer weather and local food vendors at the opening event. Refreshments will be provided while supplies last, says the city team.