Lloydminster's Sean Reimer is bringing home the silver in the men's hammer throw for Team Alberta at the Canada Games. His team mate Andreas Troschke of Lethbridge won the gold.
Reimer tossed the weight 56.81 metres for his second-placed finish behind Troschke, who hurled the metal 58.51 metres for the top prize.
Meantime, Team Saskatchewan volleyballers will have bragging rights after they won a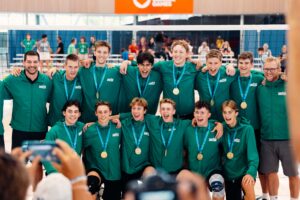 hard fought contest for the gold medal against Team Alberta.
As the closing ceremonies of Niagara 2022 wrap and plans are steaming along for the winter games in Prince Edward Island in 2023, the men's volleyballers took the gold after leading in the first two sets, surrendering the third and then storming back in the fourth set.
Team Alberta finished fourth among provinces and territories in the medal standings with 111; 35 being gold, 33 silver and 43 bronze.
Team Saskatchewan finished seventh in the medal tally with 32; three being gold, 13 silver and 16 bronze.