The discovery that the foundation of their building is in need of repair is pushing a Lloydminster non-profit into additional fundraising mode.
The 1927-downtown structure that houses the Lloydminster Sexual Assault Services, in the words of Heather Sinfield, 'is crumbling.'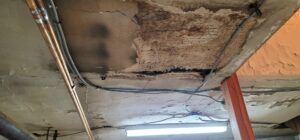 "There is water-damage and significant structural issues, that within the next three-years if we don't fix, can cause even more severe issues for our space. So we had to sit with it for a bit and really decide what are we going to do, how are we going to put some muscle behind this."
Sinfield says, in the past the community has supported multiple additions to the facility to foster their work including the Little Bear Advocacy and Survivors of Sexual Violence programs and the space is perfect to support the needs of people dealing with trauma. As such, they are seeking to raise $450,000 to fix the foundation.
The kickoff to their efforts will be the 40th anniversary gala planned for Feb. 11, next year.
"So we do have the opportunity for those folks who are on a level of generosity to become an elite foundational sponsor with various categories of $25,000, $50,000 and $100,000. Reach out to us if that sparks your curiosity and you would like to know more about that. In terms of the gala, we have sponsorship opportunities for gold, silver and bronze levels," says Sinfield.
LSAS also has volunteer opportunities to support the fundraiser as well as live and silent auctions. Saskatchewan band Kriss The Sky will serve up live entertainment along with supper served at the WLS Convention Centre in the Lloyd Ex.
Donations can be made using a link on the LSAS website. A video of the structural repair needs can be viewed on the LSAS Youtube page.
Residents can also call LSAS to get a tour of their building and learn about the services available.