The Little Bear program is a warm, safe inviting place where children and youth can share what has happened to them with a child forensic interviewer – and "they only have to tell their story one time," says Donna Astley-Reed with LSAS.
Astley-Reed who is the program director for Little Bear notes that as the role of the Lloydminster Sexual Assault Services straddles the bi-provincial city, so too does the demand for the service that they provide. It could take some time for a youngster to be able to say what happened to them and being able to give that statement once and have it recorded, especially for court purposes is an important service that LSAS provides.
The program which offers support for children and youth who have experienced physical or sexual violence and domestic abuse, has seen over 50 children this year who are then referred to other services as required.
Astley-Reed explains the intake process saying they give the youngster a tour of the building especially to calm anxious feelings. Then the RCMP officer is introduced as "our friend" – just someone who is here to help.
"They get to choose a blanket or a bear. They can choose both. We provide a fidget that they might take to their forensic interview – anything that will help them feel more comfortable we will provide. So before the interview, a healthy snack, water – a beverage, juice; something like that to help them out, if they want that. Then, "our friend" will come up and introduce themselves," says Astley-Reed.
The RCMP officer will chat both with parents and the youngster. While they are speaking with the parents the youngster is engaged in other activities like colouring, adds Astley-Reed.
When the interview is over, the youngster gets a comfort bag which includes the blanket they have chosen, as well as a new toy from the toy room or in the case of teenagers, something that is age appropriate.
Astley-Reed says the LSAS facility is set up to be a child-friendly space and sometimes it can take hours for a youngster to share what they are going through.
"From our decor – the murals and paintings on the walls all the way through the building; having that (forensic interview) done here with an advocate present, that can support kids, support the family, when RCMP are chatting with the family – advocates can be having a fun game with the kiddo or colouring, reading a story – it's really more child-friendly and safer for them."
Astley-Reed who has been with LSAS for several years says she now gets to witness the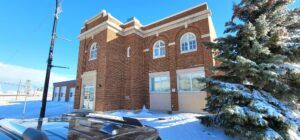 beginning of someone's healing journey with the Little Bear program.
As MyLloydminsterNow has reported, the Lloydminster Sexual Assault Services is currently fundraising to repair the foundation of their building. Donation information and details of their 40th anniversary gala can be found on their website.