"We do things very well here in Canada," says Quick Dick McDick as he spoke to the audience at Agrivisions at the Lloydminster Exhibition.
Addressing the topic of the future of agriculture, Dickson Delorme better known as Quick Dick McDick touched on issues like the use of technology, but pointed to the danger of becoming captive to the tech companies. He urged ag producers to be vigilant and beware of having to pay subscriptions for features that are already part of the vehicle that they are purchasing.
His concerns delved into why the ag community and other industries have not been able to get their stories out about the work that they do, especially as one looks at the numerous century old farms still in agriculture and realize that farmers would be the first to suffer if their practices were not sustainable.
"We're responsible for 1.6 per cent of global greenhouse gas emissions in Canada. Now I'm not saying we shouldn't do better, but we need to acknowledge the fact that we already do very, very good."
In doing that comparison, he takes issue with the per capita analysis pointing out the size of Canada.
"Per capita basis is the most unfair thing that anybody can ever compare us to in Canada to anybody else, because we have the second largest land mass of a country in the world. Our per capita emissions are of course going to be higher when you just look at the size and the climate of our country. We shouldn't base what we are doing per capita, we should base it on what we grow, what we mine – what we bring from the earth and manufacturing it to the rest of the world – and we can compare that to other people."
He says Canada is a huge country that has to move products across its land mass to get to market, so "our per capita emissions are going to be higher."
On the issue of why the work that agriculture producers already do is not the leading narrative, he points to the urban and rural divide, as even in his own family, he has relatives who have left the farm for over a decade and for their kids, the innate understanding of how food is produced has been lost.
Quick Dick McDick has led a life both in oil and gas and is now back on the farm. He is concerned about the labour shortages in all areas including agriculture, but he is keen on the political climate as he points to issues like China owning lithium mines in Canada which exports the lithium and then buys back the batteries from China.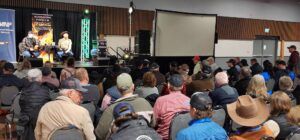 Last November the Feds ordered three Chinese companies to divest their stake in Canada's mines citing that foreign investments are subject to national security concerns.
McDick is issuing a call for greater political activism at all levels and especially for voters to at least cast their ballots when an election is called.
"We need to get involved and we need to get involved at municipal levels. We need to get involved at provincial levels. When I was talking about front of packaging labelling on beef, we got that walked back because we got loud." We got together as a group and we said,"Hey you are not going to do this." And when we do that, we can slowly start changing government policy, but it takes everybody."
He says people can change the narrative by talking to just one or two other people at a time – and spreading the message in that organic way.  He looks at the divide that is present in society now and has this recommendation.
"We need to fix it by getting out from behind our screens – and this is coming from the guy that uploads content onto social media. Watch less social media. Get out from behind your screen and get out in your community," concludes Quick Dick McDick.