Investigators in Glaslyn are looking into four reports of break and enters to vehicles in the area.
Turtleford/Glaslyn RCMP say that seven vehicles were broken into at three businesses and a home during the overnight hours of Feb. 21 to 22. Police indicate that the suspect or suspects smashed the windows of the vehicles and stole items from some of them.
Their investigation has determined a red/brown four-door F250 pick-up truck was seen in the area during the time of the break-ins and they have deemed this to be the suspect vehicle.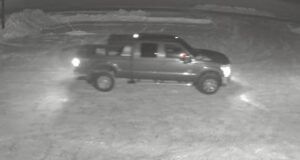 Police have released the images attached to this story and indicate they wish to speak with the suspect shown.
Anyone with information is asked to contact Turtleford/Glaslyn RCMP at 306-342-2005 or Crime Stoppers at 1-800-222-TIPS (8477).
As well the police remind the public to lock their vehicles and park them in a garage or well-lit area, if possible. Also, remove keys and other valuables from vehicles.