A $300,000 ask for funding has been granted to the Border Paws Animal Shelter by the City of Lloydminster.
The assistance was decided on at council meeting on May 8.
On Feb. 13 Border Paws brought the matter to a GPC meeting indicating that the capital dollars would help them to complete the final stages of their new building at 5206 – 63 Street.
Border Paws staff led a soft welcome to the new facility on Thursday and president Amanda Williams explains the next top priority.
"So that money is going to go towards helping us finish our capital project. So getting us into the building, purchasing the kennels and grading the backyard for our green space. We are hoping to have the backyard done in the next month or so. It needs to happen. The dogs need a green space back there."
Operations at the old SPCA location have been shut down as staff and animals have moved from the old and into the new. Several dogs and even more cats are at the new location awaiting their forever home.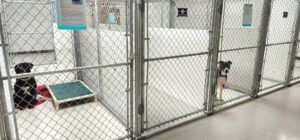 Even as they settle in at the new location, Williams notes the needs at the animal shelter are continuous.
"As the animals always have to receive the same standard of care, our needs are ongoing. So, whether it be to make a donation to our capital campaign or just the shelter operations – we are always grateful for any support."
Several fundraisers already circle dates on the calendar heading into summer including:
Residents wishing to support the Border Paws Animal Shelter may visit their website. Information may also be found on their social media.