One candidate described the Lloydminster Chamber Forum as "a very collegial exercise," as five of the six contenders sat side-by-side at the Lloyd Ex to present their views in the lead up to the May 29 Alberta vote in this riding.
Darrell Dunn with the Alberta Party added that at the end of Wednesday night's presentations, "there was some push back and forth, but nothing negative." His strong suit remained advocating on behalf of seniors' issues and taking the platform to the Legislature.
"You need good solid representation to get the interests of the constituency put forward in Edmonton – health care, seniors care, education, the fact that Lloydminster is both sides of the border. All those issues need to be pushed in Edmonton – and pushed hard," concludes Dunn.
Danny Hozack for the Wildrose Loyalty Coalition says he gave UCP's Garth Rowswell a jocular jibe to head to retirement or "out to pasture." He joked after, that they all had some fun. He was firm on questioning Rowswell on the use of Ivermectin, to which Rowswell replied that the manufacturer never applied to Health Canada for a license.
Hozack said the forum was a good exchange of ideas. Switching to the UCP leader Danielle Smith who crossed the floor, the Wildrose candidate stuck to what he called his main point.
"If you can't fire someone, don't hire them. I really think that we have to have recall in our system. Not having recall is quite literally like my speech said – buying a new car with no brakes. It's just an accident waiting to happen. If nothing else, we are hoping we will convince more and more people to be enthused about recall and then we will go from there," surmises Hozack.
UCP's Garth Rowswell jabbed back at Hozack's comment to put him to pasture saying, "You've got to have a goal." Noting the different ideas presented at the forum, he added that he looked forward to working with everyone regardless of the election result.
"Here we go. We will see who gets elected and we will go from there. A lot of these guys – you know if I win, I will be talking to them and using them for their information. And if they win, then I will offer that help to them as well," expresses Rowswell.
He noted that the UCP is committed to lowering both business and personal taxes, which he said drives investment, leading to jobs and taxes which are then used to pay for health care, education and infrastructure.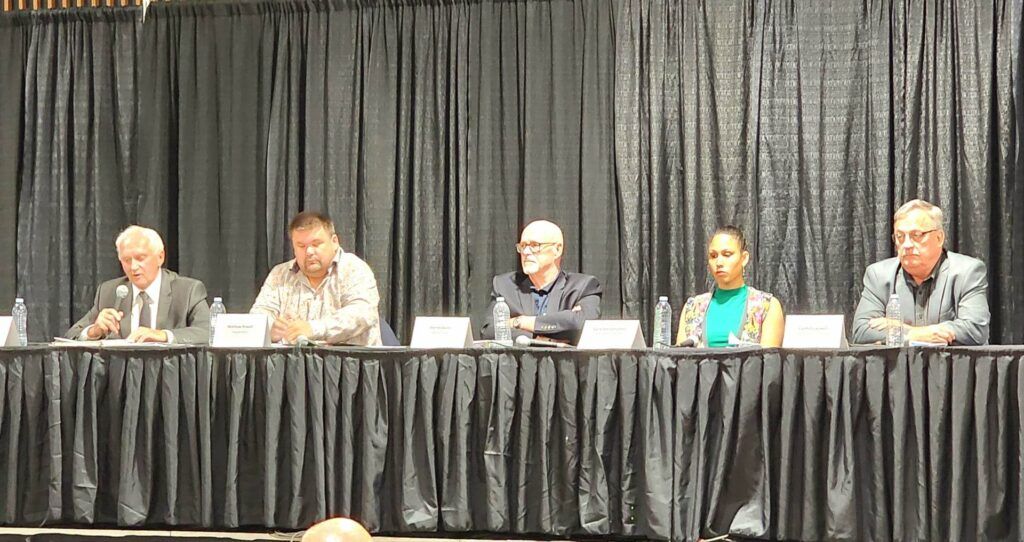 The Green Party's Tigra-Lee Campbell kept up her advocacy of social issues and promoted her work with street teams to help those who are unhoused. On dealing with crime, she stressed crime prevention by addressing the social issues which she contends are the root causes and rehabilitation of criminals.
Campbell addressed the concerns expressed by Hozack who contrasted Rachel Notely and Danielle Smith on their timelines to get to carbon net-zero, saying she was bewildered.
"Alberta is literally on fire – northern Saskatchewan is on fire and we are having unprecedented dry weather, but we are still going to deny climate change and literally, actively work against getting to net-zero – it's just mind-blasting to me, but I was super grateful to be here. I felt heard."
Independent candidate, Matthew Powell maintained his stance on the overreach of municipal councils via the Municipal Government Act. He contends that he thinks the bylaws are scary and that municipalities are hiring third party companies to promote regulations on things like land use.
Powell says the debate had some tough questions, but he is running for the people and does not want to be hindered by having to tow the party line.
"I'm running for the people of Alberta. I'm not running for a political party – and that's why I'm independent. The conversation I was just having was about splitting votes. I'm not going to split votes, because I plan to support Danielle Smith – fully and wholeheartedly, as long as it holds conservative value," concludes Powell.
Residents may read profiles on all the candidates for the Vermilion-Lloydminster-Wainwright riding by clicking on the links within this article. The NDP candidate, Dawn Flaata indicated she was regrettably unable to schedule an interview.
Advance polls continue until Saturday and election day is May 29.