Holy Rosary woodwork students have put their learning to the test by building some potentially lifesaving gear called cribbing blocks to be used by the Lloydminster Fire Department.
As crews work to extricate victims, cribbing blocks are used by first responders to provide stability and limit the movement of a vehicle that has been involved in a collision.
Some 18 students paid a visit to Fire Hall number one on Monday to share their civic-minded gift which will be divvied up as needed among the various fire vehicles says Bill Heesing, assistant chief with the fire department.
"The cribbing packs weigh about 30-40 pounds each. We can bring them to the scene of a vehicle accident versus carrying them in milk crates or however else we might get them to the scene. In the crib packs we have everything we need from wedges, to cribbing, to blocking. So, bring them to the scene, we can put them on our staging tarp and then the guys doing the extrication can easily access them."
Heesing underscores the invaluable contribution of the woodwork students to the fire department saying that they appreciate the dedication and craftsmanship of the students and their teacher, Kevin Bender.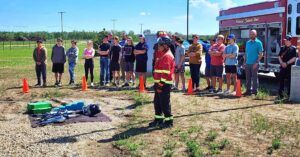 The students spent about 12 hours crafting the cribbing blocks.
The multi-coloured blocks can be easily identified, explains Heesing, adding that makes them easy to find if they are left in a ditch at the scene of an incident.
Heesing adds it was important for them to build community relations as they worked with the school and the students. He notes the possibility of inspiring a few kids to pursue a career as a firefighter.
Grade nine woodwork student Bethany Dymtryshyn was happy to be able to use her creativity on the cribbing blocks project.
"It just means for us that we are able to help in the community and we are able to help other people get out of situations that they most likely don't want to be in."
The fire officers did a demonstration of the use of the crib blocks in tandem with the jaws-of-life to cut away the roof and frame of a car. The kids got a tour of the fire hall, a pizza lunch break and a visit with the fire team.