The One Million March 4 Children and supporters of 2SLGBTQIA+ groups were both at the gazebo at Lloydminster City Hall on Wednesday to register their opposing views on sex education in schools and the protection of rights and freedoms.
The One Million March 4 Children brought its posters and banners and hundreds of its members to support its drive to protect its children against premature sexualization and harmful indoctrination that it says happens at school.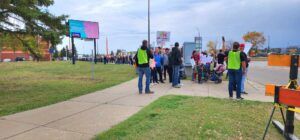 Local 2SLGBTQIA+ groups were also present in smaller numbers but came with its loudspeaker and placards to counter the opposition which it says is explicitly anti-gay.
While the amplified voices went toe-to-toe a few Lloydminster residents met at the back and held strong, firm yet peaceful conversations on the opposing views.
Border City resident Joey Stephan says it's important to focus on the family. He shared his concern about what happens when children leave the home for school and encounter matters surrounding sexuality from things like the SOGI curriculum which Saskatchewan recently suspended as it conducts a review.
"It's important to have a dialogue and a great conversation, and we should be allowed to disagree. But we need to decide what our kids are going to learn in school. I think that a majority do not want our kids being sexualized. It's a very small few that want the teachers to be able to give our kids ideas, and to stay in that lane and not tell the parents," says Stephan.
Saskatchewan recently mandated that children under 16 must have parental consent if they wish to change their preferred name and pronouns. MP Rosemarie Falk, MLAs Colleen Young, and Garth Rowswell all sent statements; portions of which were read to the gathering.
Brad Gallamore with Lloydminster and Vermilion for Equity who took part in a spirited conversation on the opposing views felt that it was "promising."  He stressed that being gay is not a choice as he expressed his concerns.
"The One Million March is against the sexualization of children through SOGI. SOGI was introduced to help people understand that some people are gay, and some people are trans. So, if you are against SOGI then you are against the inclusion of queer people. This isn't about saving your child. No one is trying to indoctrinate anyone," says Gallamore.
The march corresponded with similar activities at legislative buildings across Canada. It attracted people from a cross-section of faith beliefs.
Twelve-year-old Bella Atchison whose parents brought her to the march, says she feels bullied at school for her beliefs.
"They bullied me for just being myself. Just trying to stand up for what I believe in. Just leave kids alone and fight for what you believe in."
Meanwhile, in conjunction with Grace United Church, local 2SLGBTQIA+ groups will meet at the church from 6:30 p.m. and lead a candlelight vigil downtown until about 9:30 p.m.