At a time when over 30 countries are engaged in conflict around the world, Lloydminster students including those at the Lloydminster Comprehensive High School are holding various Remembrance Day observances.
Sgt. James Petrak who has served some 16 years with the Royal Canadian Logistics Corps was the special guest speaker.
"I've lost friends in training environments as well as combat. That's the hard part. It's remembering the people that came before me and the people that will come after me."
Filled with emotion, Petrak delivered a PowerPoint presentation to some 900 students in the school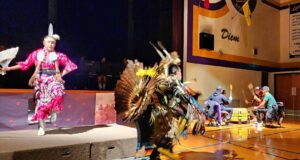 gym. The school band rendered several musical pieces to support the solemn occasion. Another important aspect of the program saw two Indigenous dancers do a war and a peace dance accompanied by Red Tail Drummers from Onion Lake. Also, two students led the assembly with a reflection on the contributions of Indigenous veterans.
The forthright sharing of the ammunitions expert was not lost on the students as one youngster came up after to speak with the sergeant about joining the Canadian Forces.
"We recommend that people go on to the forces.ca website because all of our trades and jobs are listed there. You can pull down from the menu, select things and read them. If it is attractive to you, we will gladly help you get there. We want young people to come to us because we need them. They are our future," said Petrak.
Petrak's work at home sometimes involves rendering unused munitions safe so that they can be disposed. Oftentimes these may be discovered in a field or even a park. He is presently stationed at the base in Wainwright.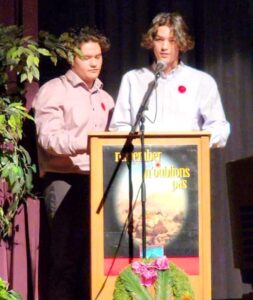 At the end of the ceremony, students led an honour tribute with votive candles to all those who had served in Canada's forces including those with a connection to Lloydminster Comprehensive High School.