The police in Bonnyville are investigating a suspicious death.
According to a news release from the detachment put out on Monday afternoon, members of the Bonnyville detachment were sent to a home in the community around 1:30 p.m. on Sunday, after the suspicious death of an elderly man in the home.
After police arrived at the scene and found the deceased man, the home was secured and the RCMP's Major Crimes Unit-North from Edmonton was called in to conduct the investigation. The home is now being processed by the Forensic Identification Section of the RCMP, as evidence is gathered from to determine what led to the man's death.
The man has been identified tentatively but confirmation of his identity, as well as the cause and manner of death, will be made at an autopsy which has been scheduled for tomorrow at the Office of the Chief Medical Examiner in Edmonton, according to the release.
As the investigation proceeds, the police are asking for public assistance in locating a vehicle, which is believed to have belong to the deceased man and is missing from the Bonnyville residence.
Police supplied the following description:
–        1974 Dodge D200 pickup truck, light green in colour;
–        Large white and green canopy on the back
–        Bearing Alberta License plate # BES-165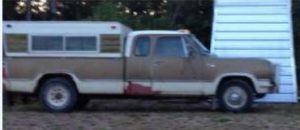 If you have any information on the vehicle or know of its whereabouts, please call the Bonnyville RCMP Detachment at 780-826-3358, or contact Crimestoppers.