Shoppers at the Lloyd Mall had a surprise yesterday evening.
Around 8:00 p.m., a large gathering of First Nations dancers gathered in the central area of the shopping centre, forming into a round dance which circled to two songs in the middle of the complex. The event, which drew more than a hundred people together in a flash mob, was held to express solidarity with the protests currently taking place in North Dakota, in response to the Dakota Access Pipeline.
According to Trysta Leigh Cook, who organized the event, attendance was unexpectedly high.
"I just got off work at 7:30, and I showed up, and it was just packed," said Cook.
"I want to cry, I'm shaking right now, and I want to cry, when I saw everybody here."
Cook said the planning process had started after she had viewed a number of social media posts about the Standing Rock protests, and wondered why no events had been set up for the Lloydminster area.
"I just thought, 'why doesn't somebody say something?'", said Cook.
After making a post to her own Facebook page asking people to come out to the mall, Cook said the event went viral.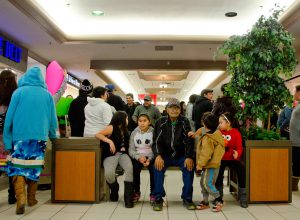 As for how she feels about any backlash to the round dance, Cook said she knew there would be people who would disagree with what the dancers were doing.
"Everybody lives off oil, but we did it too much," said Cook.
"There are other ways we can get energy, from the wind, solar power. We've taken enough oil from the earth, we're just going to mess up the whole climate now, and we really have to think about the kids. When I saw those kids sitting in the middle here, during the round dance, that's who I thought about, that's who we're doing it for."
Cook also said she was thinking of holding another dance at the mall during the Christmas shopping season.