The suspect in a shooting and auto theft case in La Corey, Alberta, has been arrested by Edmonton police.
According to a news release issued by the Bonnyville RCMP,  Cashton L'Hirondelle was located and arrested by Edmonton Police Service last night.  He was in possession of a maroon Ford F350, earlier reported as stolen.
He remains in police custody.
L'Hirondelle was one of three suspects in a shooting that took place on November 9, after the nighttime theft of a truck. The theft took place shortly after 8:00 p.m. on Wednesday night, after a black Ford Escape pulled into the Hawkeye's Liqour Store parking lot in La Corey.
A man, who was dressed in a grey gymsuit and holding a machete, exited the passenger side of the vehicle and got into a black Ford F350. The vehicle had been left in the parking lot of the liquor store, running, with the keys still inside, and the thief drove out of the parking lot, narrowly missing the owner of the store on his way out.
The stolen truck was bearing an Alberta licence plate of BNW 5764.
Five co-workers of the stolen truck's owner were nearby, and found the truck on Highway 55, attempting to pursue it westbound. However, they were unaware that they were being followed by the original Ford Escape. The driver of the stolen truck then stopped, backing up towards their pursuers and ramming their vehicle.
The Ford Escape then drove past the rammed vehicle, and fired a shotgun round at their truck, striking the driver, who was treated in hospital.
The last remaining suspect in the case, Aaron Christopher Watt, is still at large and being sought by the RCMP.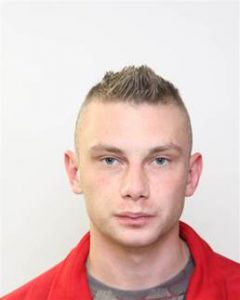 He is considered armed and dangerous, and may be driving the stolen black Ford F350. If you see him, do not approach him, and call the police.