UPDATE: The City of Lloydminster has issued a notice about the spill.
According to the notice, the spill was discovered around 12:30 p.m. on Tuesday. The Operations team is now working to mitigate the potential for environmental damage at the site, and Saskatchewan's Water Security Agency has been notified of the situation.
Motorists are being asked to avoid the vicinity of the wastewater treatment plant until further notice, and the cause of the spill remains under investigation. Anyone with information about what took place is asked to call the Public Safety Office at 780-874-3710.
---
A very small oil spill is being investigated in Lloydminster.
The spill took place near the city's wastewater treatment plant. A large culvert, located just south of the plant, had an undetermined amount of heavy crude dumped into it's drainage path. The oil appeared to have been dropped into the south end of the culvert from the road, with a large black streak heading down into the waterway.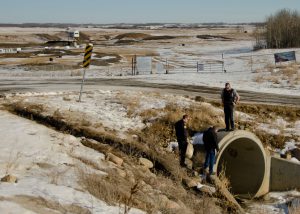 According to Lloydminster Fire Chief Jordan Newton, the spill is contained to the culvert and isolated, and methods of cleanup are being examined. The exact time of the incident and it's cause remain unknown.
"At this point, we're still investigating how the spill happened," said Newton.
"We are looking at ways to mitigate this issue. It'll be a combination of vac truck and steam trucks, depending on how the weather progresses through the day."
Newton said the spill was reported by a "Good Samaritan", and that there was no threat of the oil entering any other parts of the municipal drainage system.
As more information becomes available on this incident, this story will be updated.