Lloydminster residents could be seeing an added cost on their water bills in the near future.
A draft bylaw for a stormwater utility fee is in the works from the municipal government. The fee was included in the 2017 budget, and is aimed at gathering funds to pay for repairs to the existing stormwater system in the Border City, as well as building a reserve of funds for stormwater infrastructure in the future.
Information released by the municipal government has indicated the current stormwater system in the city is in need of maintenance, with a focus on the Neale-Edmunds Complex east of Lloydminster. The complex is the main drainage route for stormwater leaving Lloydminster. Across the complex, repairs are needed to keep the system in working order.
According to Alan Cayford, the Director of Public Works for the City of Lloydminster, the average cost of the fee will be an added $13 per month on a residential water bill, with larger costs incurred for bigger lots. It is planned to come into effect on March 29, 2017, if passed by council.
A full breakdown of the draft costs is included in the image below.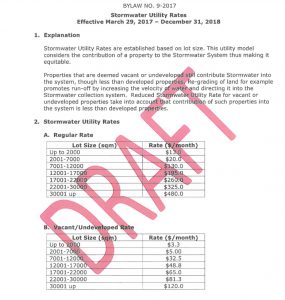 Cayford also spoke to the possibility of the City dropping the plans for the fee, and leaving the current stormwater system the way it is, referencing the summer flooding in 2016.
"You saw the kayaks," said Cayford.
"I think that's the risk, that if we don't do some upgrading and make this water get through our city in a timely fashion, that we run the risk of flooding property. I don't think there is anybody that wants to do that."
Cayford also referenced the damage done to 40 Avenue north of the municipal landfill, which washed out a part of the road.
"We need to try and stop that from happening," said Cayford.
"In order to do that, we need to go out to the east, because we have to start in the east and work our way back. It doesn't make sense to make the water go faster out of the city, and have it back up at the next place."
The bylaw to make the fees official has received first reading from city council. It will need to pass second and third reading in order to become law.