The City of Lloydminster wants to know how much residents would want to pay for the stormwater system.
A short survey, put out by the City on Monday afternoon, asks residents three questions about their views on the stormwater system.
Residents have the opportunity to rank the importance of the stormwater system, indicate how much they would want to pay per month for the system, and choose whether they would want the costs to come out in taxes or in a utility fee. The results of the survey will be delivered to council on March 27, 2017.
In previous information issued by the municipal government, the average cost per home under the projected fees would be $13, rising as lots grew larger. A table of draft costs can be viewed below.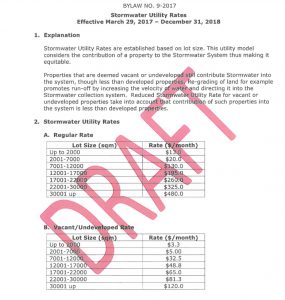 The survey can be found here: https://www.surveymonkey.com/r/stormwaterutility