Lloydminster residents will be seeing an added cost on their water bills after Wednesday.
A bylaw for a stormwater utility fee has been passed by the municipal government. The fee was included in the 2017 budget, and is aimed at gathering funds to pay for repairs to the existing stormwater system in the Border City, as well as building a reserve of funds for stormwater infrastructure in the future.
Information released by the municipal government has indicated the current stormwater system in the city is in need of maintenance, with a focus on the Neale-Edmunds Complex east of Lloydminster. The complex is the main drainage route for stormwater leaving Lloydminster. Across the complex, repairs are needed to keep the system in working order.
According to Alan Cayford, the Director of Public Works for the City of Lloydminster, the average cost of the fee will be an added $13 per month on a residential water bill, with larger costs incurred for bigger lots. It was planned to come into effect on March 29, 2017.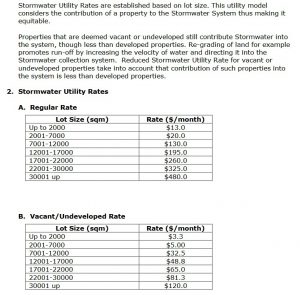 Council discussed the final passage of the bylaw during their meeting on March 27, during which the responses from the public outreach by the City to residents about the bylaw. A total of 167 responses were received from residents, out of a total of 31,377 people. As their discussion progressed, council decided to approve the proposed utility as it stood, and grant it both second and third reading.
After the meeting, Lloydminster mayor Gerald Aalbers described the stormwater utility as a tool for "desperately needed repairs".
"You don't always realize your car is breaking down, it wear out over time," said Aalbers.
"This system has been there for a long standing period of time, it needs maintenance. With the levy now in place, we'll be able to give city administration the tools to plan to deal with that levy."
Aalbers indicated that the rates in the bylaw would be re-visited within two years. He also acknowledged the challenge of getting out information to the public.
"I wish more people would have come out, but we did have the open house, we had the online (survey), we had myself and councillors out in the community," said Aalbers.
"I'd love to have more people comment, and that's why our doors are always open. I'm sure once it appears on their utility bill, they're going to go 'where did this come from?'. It was discussed in the budget, through the various budget processes, its been discussed a fair amount in the media, I don't know what else we can do."