A recent social media post showed ties between Interim City Manager Rick McDonald and George Cuff & Associates Ltd., listing the business under his career highlights section as an associate since 1997.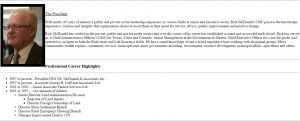 George Cuff & Associate Ltd. was contracted to do a governance audit of the City of Lloydminster, the results of the audit were released earlier this month and played a part in Glenn Carroll being relieved of his duties as the City Manager.
In a statement, McDonald clarifies his relationship to George Cuff.
"George Cuff is an industry liaison and we have worked together in numerous capacities over the years. I do not work for George B. Cuff & Associates Ltd., nor did I consult on the City of Lloydminster governance report; this was made clear during my interview for the Interim City Manager position."
McDonald adds, "I thank our local media for the opportunity to provide additional clarity on this matter and look forward to serving the Lloydminster community through transparent and accountable leadership."