The Lloydminster RCMP delivered its Annual Performance Plan System (APP) Report at City Council, identifying five main areas of focus. The five main areas were chose with consideration of a public survey along with crime trends and discussions with business groups and other community stakeholders. The RCMP also took direction from K division.
The five areas include:
Property Crime
Drug Trafficking
Traffic Enforcement
Police Visibility
Habitual Offender Management
Police visibility, traffic enforcement and habitual offender management are new to the list.
"It gives direction to my detachment for priorities to focus on throughout the year. They're not all of the items that we focus on, it just allows us to concentrate on certain areas for improvement," says Inspector Neill Pearson with the Lloydminster RCMP.
Inspector Pearson said in council that even if a survey wasn't conducted these items would still be at the top of the list for RCMP.
The detachment is also reviewing three areas to make sure proper procedure and accountability is being followed, this known as Unit Level Quality Assurance. The three areas are:
Violence in Relationships
Sexual Assaults
Missing Persons
Last year there were 666 adult males charged with crimes, which made up 69% of all charges laid in 2016. There was also an approximate 15% in increase in the number of Criminal Code charges against adults in comparison to 2015.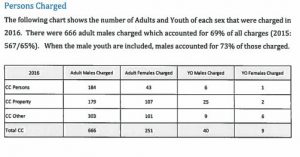 Disturbing the Peace was the number one in calls for service as well as by workload.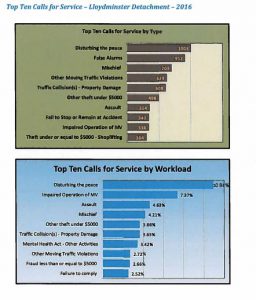 Inspector Pearson says changes have already been put into place to reflect the report.
"We'll maintain the same quality of service for the last many years of being here. You might see a bit more traffic presence. That's a good thing around schools and playgrounds. Safety for the citizens, that's what we're doing," adds Inspector Pearson.
The reporting period will end on March 31, 2018.