The Saskatchewan Hospital North Battleford (SHNB) provincial mental health facility just announced they have hit the 60% completion mark, announced just as Mental Health Awareness Week is wrapping up. The timing couldn't be better according to Prairie North Regional Health Authority Board Chairperson Bonnie O'Grady.
"There is no better time than Mental Health Week to celebrate the progress to date on construction of the new Saskatchewan Hospital North Battleford."
She adds, "SHNB has been providing quality mental health care for over a century, and will continue to do so in this exceptional new and innovative facility.  With completion just over a year away, excitement continues to build among patients and staff."
"Our government recognizes the need for appropriate and timely access to mental health services, and the new Saskatchewan Hospital North Battleford is a key step forward in our commitment to improve those services," says The Battlefords MLA Herb Cox
"This project remains important to our government, as well as to the people of Saskatchewan," Cox adds.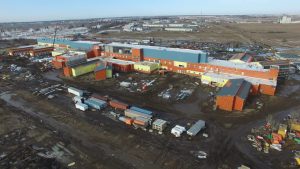 The project is currently on-time and on-budget, with over 535,000 hours of work and 25 Saskatchewan companies being involved so far.
"That construction on a project this big remains on-schedule is a testament to their talents and commitment.  We're thrilled this project is providing work for various local companies, many of whom are proud members of the chamber of commerce," says Battlefords Chamber of Commerce President Warren Williams.
The exterior is mostly complete now, work is now focusing on finishing the building envelope, putting in rough-in mechanical and electrical and putting the interior in place.