The Street Sweepers will be out starting next Tuesday. Residential sweeping typically takes place between 6 a.m. and 10 p.m., Mondays thru Thursdays.
The goals are to:
minimize debris entering stormwater collection systems
reduce dust
provide clean roadways.
Sweeping will begin in the Blue Zone and will proceed to the Yellow Zone, Pink, Green and end in the Orange Zone.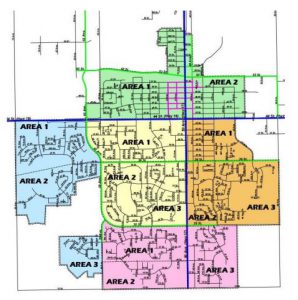 Signs will be posted 36 hours ahead of when sweeping is to begin and residents are asked to remove vehicles and curbside collection containers from the streets. If a sign is up over the weekend, residents can still park there but must move their vehicles by Monday morning.
The City is advising drivers to be cautious around street sweepers, keeping a distance of eight metres from equipment.
If you have any questions about the street sweeping program you can call 780-874-3700.