The City of Lloydminster has announced changes to its administrative structure. This includes the elimination of these three executive positions and two employees being let go:
Deputy City Manager
Director of Business Services
Director of Strategy and Partnerships (this role was already vacant)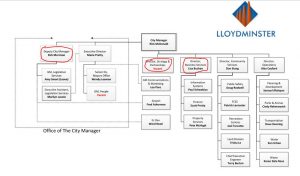 Interim City Manager Rick McDonald says, "every part of the City's organizational structure has been under review for the last couple of months."
He adds, "following the Governance Audit completed in March 2017, our goal has been to streamline all administrative processes to ensure Lloydminster residents are receiving optimal value in City services."
There may be more to come as McDonald also says "wherever we can find efficiencies, we certainly will be looking at those opportunities. This new executive, which is more refined and smaller, we'll be meeting over the next few days and coming weeks and we will look at every aspect of our organization."
McDonald goes on to say that there are two divisions of employees. There are unionized employees and he says any changes coming to them would be dealt with through the union but there is also non-unionized employees, which is the management side.
"We will start looking, through executive eyes, at our management team, making sure we have the right skill sets and the right talent overseeing the components of our city's operations and administration. Once we have gone through that exercise, we'll look at how we're organized in terms of delivery of services and programs."
As for a response from City Council and Administration, McDonald says, "I have reviewed the steps and stages that I am proposing with council, so council is aware of what is happening. I have met with all of the current, new executive if you will, executive leadership team and so far the feed back from them has been positive."
He adds that he has had no feedback from employees at this stage.
McDonald says he expects to share more information in the coming weeks.