Western Financial Group held a draw for a Saskatchewan Roughriders fire pit among other items today. They have been selling tickets over the past few weeks with proceeds going towards the Goat's Christmas Wish.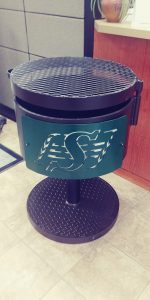 While a final tally of how much was raised isn't available quite yet, the winner was announced! Congratulations to Mandy Bugiera. Siobhan McCaffrey, an Insurance Advisor says this is a cause that hits close to home for many employees.
"The main reason we chose it is because so many of us have families. We know how hard it is to have a family and to tend to all of their needs, especially at that time of year."
She adds the support from the community has been great.
"People come in here, they do what they need to do and they give a donation and they've gone out and they've done something extra that they maybe didn't expect to do but in a way are giving it back to the community."
Along with the draw, Western Financial Group also held a barbecue today.
The Goat's Christmas Wish aims to support families that are struggling around the Christmas time.