FasGas is looking to expand their parking lot at their 56 Street and 50th Avenue location,  in order to meet requirements set out by the Land Use Bylaw. The company has applied to close a road near the business so they can build more four more stalls.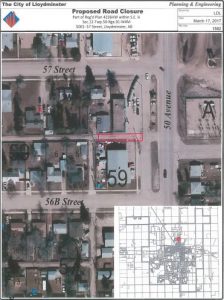 City council has passed the first reading of the bylaw but before the road closure goes ahead they will be holding a public hearing.
"The City goes through an extensive process of talking to people before hand, before even getting to this point but now this will be as public as public can be," says Mayor Gerald Aalbers.
He goes on to say, "anybody that lives in that neighborhood, if they didn't feel they were properly represented, will have the opportunity to come before council, as that's why we have that opportunity for a public hearing, they can speak to it."
The public hearing will take place at the July 17 council meeting, starting at 2:00 p.m.