In the latest poll by Mainstreet, the United Conservative Party would win a majority government if an election were held today in Alberta.
The poll showed among decided/leaning voters, the UCP has the majority of support with 57% of the votes. The NDP's came in second with just over half of that at 29%. The Alberta Party claimed third with 9% of the support, while the Liberals were in fourth place with on 4%.
"It appears to be a summer of love for the newly minted United Conservative Party in Alberta. Just over a week ago, both the Progressive Conservative Party and the Wildrose Party membership voted overwhelmingly to ratify the unification deal struck by the parties and that appears to be paying immediate dividends," said Quito Maggi, the President of Mainstreet Research in a press release.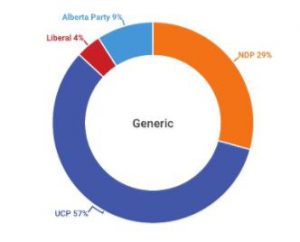 Among all voters, the UCP still holds the lead, but not a majority, at 43%. The NDP have less than half of that at 21%, the Alberta Party has 7% and the Liberals have 3% of the support. The number of undecided voters is sitting 27% according to the poll.
"One side-effect of the merger vote appears to be a spike in the number of undecided voters. In April, 15% of voters were undecided, that number is now 27% on the generic ballot, nearly double," said Maggi.
Mainstreet surveyed 2,100 Albertans from July 27-28, the margin of error for the results is ± 2.14 percentage points, 19 times out of 20.