A mobile CT Unit is now being transported to the Lloydminster Hospital to allow for the installation of the new CT scanner without any disruption to patients.
The Government of Saskatchewan and the Lloydminster Region Health Foundation are each contributing $600,000 to the project. The installation is expected to start next Monday and be completed by the first week of November. Lloydminster Hospital's CT suite renovations will be done by the Prairie North Health Region's Trades Department.
The installation of the North Battleford CT scanner is now complete, and the first patient went through the scanner Tuesday morning.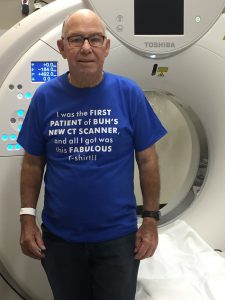 "It's an exciting day for all of us in the Battlefords Union Hospital (BUH) Medical Imaging Department," said Colais Fransoo, manager. "We are thrilled to be able to work with the up-to-date technology the new scanner provides, and to deliver faster more precise diagnostics for our patients."
The government of Saskatchewan and the Battlefords Union Hospital Foundation each contributed $600,000 for the project, with renovations to the suite done by PNHR's Trade Department personnel as well.