The Vermilion-Lloydminster riding could be seeing some changes following recommendations made in the final report of the Alberta Electoral Boundaries Commission.
The report recommended consolidating seven electoral divisions into six in the eastern side of the province, this includes the ridings of Battle River-Wainwright, Drumheller-Stettler, Strathmore-Brooks, Little Bow, Cardston-Taber-Warner, Cypress-Medicine Hat and Vermilion-Lloydminster. The report says this is to account for the population in those areas having grown at a rate below that of the province as a whole.
The Vermilion-Lloydminster riding is recommended to change to Vermilion-Wainwright, which will have a population of 46,042, 2% below the provincial average population size. This is much different from the interim report in which the area was divided north-south rather than east-west. The report says this to address concerns about driving distances and communication challenges.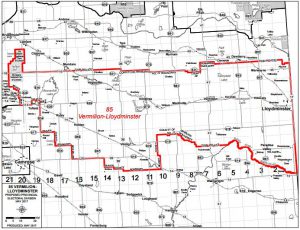 If the recommendations are put into place, three seats from rural Alberta ridings will be gone. However, the total number of electoral boundaries in Alberta will not change from 87.
It received 749 submissions in its first round of consultations. Around 600 submissions were made in response to the interim report.