The Lloydminster Region Health Foundation is kicking off their campaign to raise $600,000 for the new CT Scanner at the Lloydminster Hospital. The funding for the $1.2 million piece of technology is being split between LRHF and the Government of Saskatchewan, with each contributing $600,000.
"If you talk to the doctors that use this stuff, it's just so much more accurate and more reliable to have the newer equipment. Our goal is to enhance health care in the community, so this is right up our alley," says Darrel Howell, Lloydminster Region Health Foundation Board Chair.
Spectrum Restoration DKI helped the foundation start their campaign Tuesday, with a $25,000 donation.
"We've been working in the hospital and heard about the need from [the CEO of LRHF Wendy Plandowski] and the team at the Health Foundation and thought it was a really great cause to donate to," says Travis Stieb, Operations Manager at Spectrum Restoration DKI.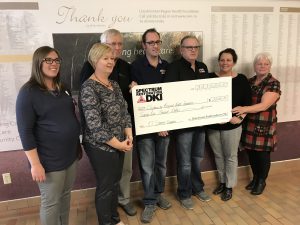 "The only way we were able to replace [the CT scanner] was by raising matching funds from the community as well. This is the first step," says Howell.
He goes on to say, "nothing happens very easily in healthcare these days. There's such a shortage of funds and more and more people that require the services so we're really dependent on the community to help a lot of these projects along and it's great to get this one started."
More events to raise funds are in the works. The installation of the CT scanner will be done in the coming weeks and is expected to be completed in early November.