The 5th annual Bea Fisher Colour within Run raises over $25,000 for people with disabilities in Lloydminster.
The run had around 400 participants and 80 volunteers over the weekend. Marketing and Business Development Coordinator Kim Crockett says he was pleased with the outcome of the event.
"It was a very successful day of not only raising funds, but also just creating more awareness and helping get those clients that we serve a little more integrated into the community."
The funds will support the foundation's programming and activities they provide for their clients.
The Bea Fisher foundation is also recognizing Disability Services Professionals Week that acknowledges staff who work with people with disabilities. Residential Coordinator Kim Addison says a lot of people don't understand the mobility issues people with disabilities face.
"If it wasn't for the staff a lot of our population of people wouldn't be able to access the community because we provide the transportation for them, we provide the support to access the facilities, all the services within our community."
Bea Fisher has 192 service staff and recognized them be decorating cupcakes.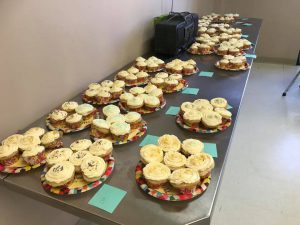 Both the run and the service week provide awareness for people with developmental disabilities, that Addison says is very important in allowing others to see the barriers those people have to go through.