Local boy Braden Holtby has brought the Stanley Cup home to Lashburn.
On Tuesday morning, around 5,000 fans lined up for miles to get into the Lashburn Sportsplex and get an autograph from the goaltender for the Washington Capitals, as well as a photo with hockey's top prize. 13-year old Tyler Harmel, a goaltender for the Maidstone Jets waited for about an hour to get an autograph.
"He's my favourite goalie in the NHL and I admire him. I'm thankful that he came with the cup."
Most people were waiting an average of two to three hours to meet the hometown hero. Unfortunately, not all those waiting in the lineup were able to meet Holtby as the cutoff for autographs and photos was 12 p.m.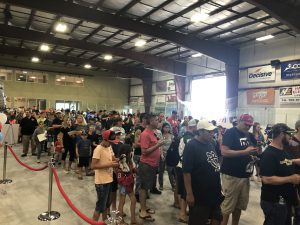 "I never really thought twice about it," says Holtby. "I grew up playing in Lashburn that's where I learned how to play and my dad coached basically every team I played for here. It was just a big part of our life growing up. It was nice to bring it back to your roots and I thought the town deserved it."
It's been a long battle for Holtby and the Capitals to win the cup after multiple playoff appearances and President's trophy wins the team claimed the prize by beating the Vegas Golden Knights in the final round of the playoffs. Holtby says he never doubted that his team would win the cup.
"I think it's a lot different when you're with a team every day instead of looking from the outside. I don't think we ever doubted ourselves. We were just trying to find ways to get better and get over the hump."
Holtby will spend the rest of the day with the cup in private functions.